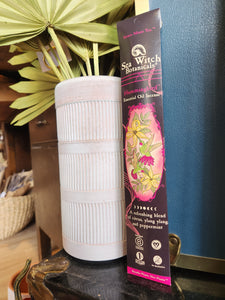 Sea Witch Hummingbird Incense
Sea Witch Botanicals
Regular price $15.00 Sale
In partnership with environmental nonprofit Conservation Northwest, we present to you our premium new scent: Hummingbird All Natural Incense, our most sumptuously floral offering yet!
$1 from each box of Hummingbird Incense purchased goes directly to Conservation Northwest in support of their ongoing efforts to protect and restore wilderness and wildlife.
Luxurious Ylang Ylang and sweet citrus dance together in a breeze of uplifting garden peppermint as this incense diffuses through the air. Inspired by the unbound spirit of the bird itself, Hummingbird natural bamboo incense evokes the heady magic of springtime flirtations, sidelong summer sun through flowering trees, and dappled shade over buzzing gardens.
Burn a stick of Hummingbird when you need to savor the sweet nectar of life. Ingredients: essential oils (bergamot, grapefruit, orange, peppermint, ylang ylang), charcoal, tree resin, bamboo stick, clay/micas