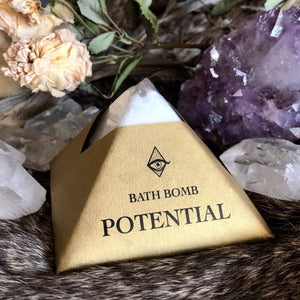 Potential Bath Bomb
Magic Fairy Candles
Regular price $12.00 Sale
These bath bombs are pure LUXURY. Let me tell you. When I feel like I need a little extra love. These are my go-to. No matter the scent, these always feel like alchemy to me. The fizz of the bomb, the moon charged quartz crystal in the top, the small pieces of herbs that slowly reveal themselves, the whole process is magic. When I step out of the bath I feel like a queen, my skin feels incredible. So smooth thanks to that coconut oil! Again, pure luxury. Enjoy!
How shall you emerge in the light of a new, young sun?
Ingredients: Organic shea butter, organic coconut oil, non-gmo corn starch, citric acid, sodium bicarbonate, dead sea salt, organic botanicals, organic essential oils: Eucalyptus, Peppermint & Rosemary, encasing a crystal charged under the full moon.