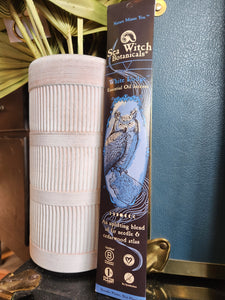 Sea Witch White Lodge Incense
DRIFT alchemy
Regular price $12.00 Sale
When I started learning about incense years ago, I was so thrilled to find Sea Witch Botanicals. I am so fascinated at how they use essential oils and charcoal. I also really, really, love how dedicated they are to keeping their company green and clean.
Not to mention the smells are delightful. I would say they are some of the least smoky incense I have burned. Very clean, with a nice not overpowering scent.
Fir Needle, Cedarwood atlas
White Lodge incense features an uplifting blend of fir needle, and cedarwood atlas essential oils. The fresh scent of the forest cuts through the humdrum of everyday life. 
Use this incense when you need to connect to your intuition, embrace your emotions, or purify your personal space. 
25-sticks of incense in each package.