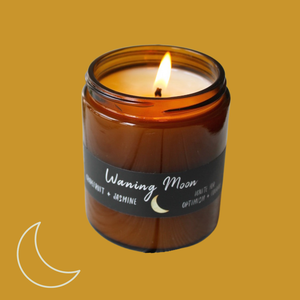 Waning Moon Candle // Moon Phase Candle // Soy Wax Candle
Soy Much Brighter Candle Co.
Regular price $22.00 Sale
Moon: Waning Focus: Optimism + Courage Scent: Jasmine + Grapefruit The waning moon is an opportune time during the moon cycle to cleanse and let go. Ask yourself what you might be be able to rid your life of to bring yourself more joy. Grapefruit will comfort during detoxing, along with jasmine which will instill openness, optimism, and the courage to release. Cruelty free + non-toxic candle // Soy wax // Phthalate-free oil blend // 8oz // Cotton wick // Glass amber jar // 45+ Hour burn time Perfect Mother's Day or Birthday gifts!