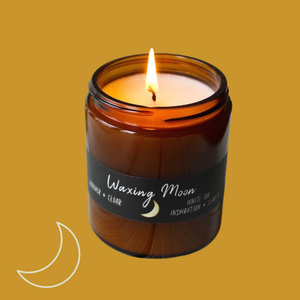 Waxing Moon Candle // Moon Phase Candle // Soy Wax Candle
Soy Much Brighter Candle Co.
Regular price $22.00 Sale
Moon: Waxing Focus: Inspiration + Clarity Scent: Juniper + Cedar While our moon is waxing, practice harnessing abundance, attraction, and higher energy. Juniper & cedar are blended together to give you the positive nudge you need to put your goals in motion. Juniper draws in supportive influences & positive attention. Cruelty free + non-toxic candle // Soy wax // Phthalate-free oil blend // 8oz // Cotton wick // Glass amber jar // 45+ Hour burn time Perfect Mother's Day or Birthday gifts!